Sometimes called a "Bobcat look-alike", also known as "a dog in disguise", there are Legends in all areas of the continent that suggest the Pixie-Bob's family tree took root when domestic cats imported from Europe met their wild cousins in North America, but its true origin is unknown.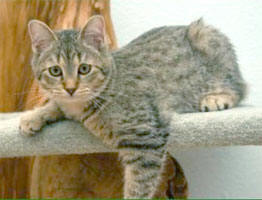 There is much controversy over the actual history of the breed, due to this the history is not covered here.
The breed is rather unique in its ability to capture the hearts of many people who had never before thought of themselves as cat lovers. It has been called the canine of cats both because it is a loyal family member that trains to walk on a leash (if you start early) and because it travels so well in a car.
The Pixie-Bob has developed a reputation for being an over-sized cat, especially among the males. However, most breeders consider it a medium-large feline. Certainly, there are numerous examples of mixed breed cats and other breeds which will match its weight. However, this is a heavily muscled breed with heavy boning and it often looks larger than it is. Males are generally 15-20 pounds (some, but not all, reach 25 pounds) while females are about a third smaller, generally 8-15 pounds.
The short to medium-long coat of the Pixie-Bob is heavily ticked (agouti) and they are only accepted for show as Brown Spotted Tabby. The breed standard looks for a random spotted or broken mackeral pattern. It has a naturally bobbed tail, usually between two and 6 inches. Being polydactyl is such a dominant trait that this is the only breed accepted for show with more than the usual number of toes. Many Pixie-Bobs also have Lynx tufting on their ear tips.
As a breed, Pixie-Bobs are renowned for their quiet nature. Many will rarely call out and they tend, instead, to voice what they want with musical chirrups. This is not to say they don't communicate a lot. however, the Pixie-Bob has a unique way of gesturing with a raised paw as if to emphasize some point they are delivering through a mind-meld.
Pixie-Bobs are affectionate and gregarious cats, but you would not call these highly independant beings lap cats. They would rather be with you on their own terms and tend to sit beside you. While some are cuddlers, most will resist being picked up and carried. The family bond of this breed is so strong that they do not easily transfer owners after the age of one or two years. Still, they are gregarious and friendly, even tending to run to the door to welcome visitors to their home. They get along well with children and they also live comfortably with dogs and other pets. In fact, breeders speak of Pixie piles because these cats love to curl up beside and drape themselves over their companions.
Polydactyl (many toed) paws are a common occurrence in the breed, and these larger paws add to the breed's wild look, but do not hinder it's ability to get around.
Personality Traits:
Intelligent beyond belief.
Busy but never hyperactive.
Exhibit an unusually strong bond with their family, not usually transferred successfully to another home after the age of 1 to 2 years of age.
Excellent companions for children.
Love to travel in the car.
Will train easily to walk on a harness.
Will train to fetch (many do this without training).
Clean, with domestic litter box habits.
Perfect house or apartment pets, being non-destructive to home and furniture.
Extremely quiet with only an occasional chirp or chitter.
Gets along well with other animals.
Care and needs:
Diet: An excellent quality dry food, (canned food for kittens) and a daily serving of raw poultry meat if desired. (Raw meat required for exotics only). It is not necessary to feed raw meat to your domesticated cats. Use some method to kill the bacteria of raw meat, par-boiling being the least expensive but you can use dilute bleach or HO2 (food grade hydrogen peroxide). DO NOT FEED COOKED POULTRY WITH BONES.
Worm often on your veterinarian's schedule.
Plenty of fresh water served in a metal or ceramic bowl (not plastic).
Vaccines should be given under the advice of your veterinarian and tailored to your local area and situation. Most breeders prefer killed virus type vaccines.
Note: It is essential that the Leukaemia vaccine NOT be given & the Rabies vaccine should be avoided if possible. Both have been known to kill Pixie-bob cats, causing immune system shock. With Rabies there is a slower decline, usually 3 weeks to 3 months, but with Leukaemia several have even died on the Vets table.
Keep the litter box very clean or they will find someplace else.
Keep a piece of interesting shaped wood in a corner for scratching to absolutely prevent any damage to the home.
Remember that the Pixie-Bob is a unique and eccentric companion that will entertain and love the humans it owns "until death do us part". It is impossible to explain the depth of affection possible between a Pixie-Bob and its owner. You have to find out for yourself.
Related Articles:


Egyptian Mau


Scottish Fold


Russian Blue


Norwegian Forest


Japanese Bobtail