Every year dictates a new fashion in clothes to us. Every spring people (especially the best half of mankind) open doors of cases and understand that they have resolutely nothing to dress.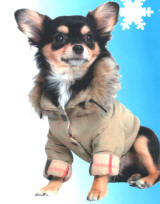 All of this has already got out of fashion, morally has become outdated. Dog lovers do not have such problems. Thanks for it to our pets. In the beginning of each season dog lovers (especially their best half) opens doors of cases and understands, that they can dress only jeans, summer trousers or bridges. You can put on your shorts not every day. If you cheerfully plaid about your favourite yesterday the problem of a choice «mini» or «maxi» does not exist for you the nearest week. Bruises on your legs have solved all. Kapron stockings are badly compatible to cats and dogs of fine breeds. The stockings do not maintain "close" dialogue with your smaller brothers.
During a seasonal moult of your house miracle you are forced to refuse light clothes. You can carry all clothes from a thin material. But to meet your dog which weighs 50 kg, I do not recommend for you. You should choose what to put on trial: feelings of a dog to which do not allow expressing the pleasure to the full, or your new thing which obviously is not calculated on such loadings. Certainly, if you have well trained dog, you have considerably less problems. You can walk it even in footwear on high heels, in a miniskirt. And in the thinnest stockings which can be in the world. But it should be dark tones if your pet fades. And clothes from a fabric of type of a velvet and velveteen are impossible, even if yours dog is the champion on trainings. I prefer jeans, trousers, sports shirts and not so trained, but direct dog near to me.
I do not like dogs-biorobots. And may be, I simply search for justifications to myself. Simply I put things in order in the case today. Cleaned old things and removed the moth. I have understood that practically all my clothes are sustained in practical, sports style. It is a little sad. But it is convenient very much.
Comments of Kira: There is no meter to be sad! Superfluous overalls is superfluous problems. Do, as your husband advises you: throw away from a case all your old cloths and from your head - silly ideas.
Related Articles:


The first experience


Some Noteworthy Dogs in History


What dogs can


Evolution of the dog


Some intersting dog facts......